"strAngel"
( SORRY THIS BOOK IS NOT AVAILABLE AT THE MOMENT. . . I HOPE TO BE BACK IN PRODUCTION VERY SOON )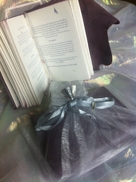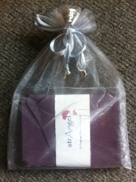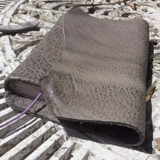 When Divine Messengers seek to commune with Humanity,
They enter our consciousness, borne on Wings of Light;
speaking strAngel.
The language of angels is strange.
Hear it not with the ears ;but as experience within the Heart.
Bridging worlds, in exquisite formlessness,
delivering the wisdom of the Ages, into this moment of Now.
Soften into this.
You will understand.
Take your time.
Let strAngel come to you.
Feel it settle.
Rest within.
Eternity dwells between the pages of forever.
The language of angels is strange.
You will understand.
Allow
Accept
Amen
~A~
"strAngel" is a "Living book" , a compliation of 44 of the best beloved poems, messages and guidance from my angels. Printed and pressed by hand using traditional artisnal techniques by my artistic collborator Sarah Davenport using beautiful hand made papers containing living flower seeds and recycled banknotes, bound in found materials of leather. Each book is unique. when Sarah has printed them, they come to me, and I add my own special touches to the cover, and hide little "secrets" within the pages for you to stumble across as you open the pages for the first time. "strAngel" feels like an ancient tome, something which has already travelled far and expereinced much; your copy is waiting for you to continue the journey together. When you place your order, I will ask you for a number between 1 and 44. That page will be earmarked for you, as of particular note and whatever message is written there, your angels want you to pay attention. Perfect as an eternal gift for yourself or a loved one.

Size may vary slightly but approx 5 x 7 inches. Presented in a beautiful silvery organza pouch with the "EVeRYDay ANGeLS" logo and silvered charms on the drawstring. PRICE is £100 each plus delivery.
DIVINE TRINITY

More than just a pendant!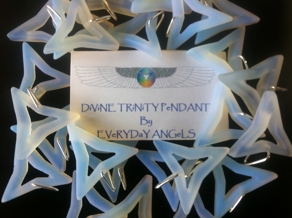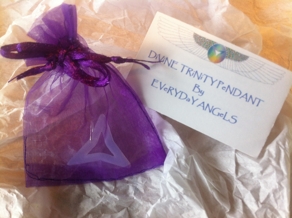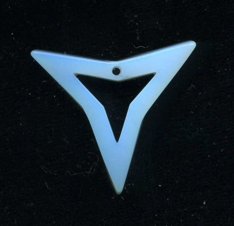 "Divine Trinity" pendant only available directly from "EVeRYDaY ANGeLS"
Price £25 plus p&p
Pendant size - 3cm x 3cm
Delivered in a violet organza pouch with a leaflet of provenance
Ready to hang on your own chain or cord
"I was guided to create this beautiful pendant as a symbol of Unity. The shape originated from my own instantly recognisable Y shaped angels, opened out and returned to their most simplistic form of the triangle. The edges are allowed to "relax" and the heart centre opened up. It is a pure representation of the Divine Trinity, combining the essence of Mind, Body and Spirit in a way that can be appreciated by all, irrespective of religion or belief system. The crystal (opalite) represents the body, gives substance and physicality whilst carrying the Light within it. The open centre represents the spirit or soul residing within the centre of the whole. The construct of the shape, the geometry, represents the mind, or knowing. This is both cosmic and intimate, universal and personal, a totally unifying and liberating symbol which converts a simple Truth, through spiritual alchemy into a tangible and accessible icon. To wear it is to declare your Self as Light."


~ "PURSE" ANGELS ~
100% Divinely Inspired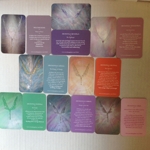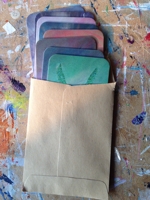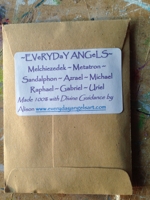 THEY ARE BACK!!

After a brief hiatus . . . I am delighted to be able to be able to offer a selection set of 8 of my most popular Archangels in an honest little brown manilla envelope.
The line up includes MELCHIEZEDEK ~ METATRON ~ SANDALPHON ~ AZREAL~ MICHAEL ~ RAPHAEL ~ GABRIEL ~ URIEL . Each angel card carries its message on the back, printed onto a shimmering gold card, which suits them very well.
Please note, this style of card has no 3D application and therefore does not need laminating (which is why I stopped doing them for a while, I didn't wish my angels to add to plastic pollution).
The cost is just £5.00 per pack of 8 angels, plus p&p. For UK add £1.00 Europe add £3.00 and USA /CANADA add £3.50
To order just email me at the address given above I can accept BACS or Paypal payment . Don't forget to give me your address for posting.
~THANK YOU~